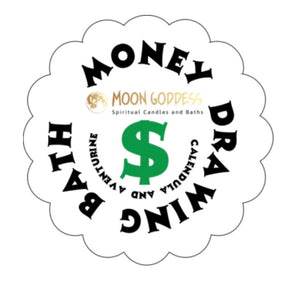 Green Aventurine is an especially useful crystal to attract wealth and good luck. That is the main reason why many investors carry Aventurine as a Talisman  on them. Crystal for good luck originates from the Latin word Aventura- meaning, chance.

It enables and brings good luck, joy, balance and money especially when selling products, paying bills, gambling or playing lotto.
Calendula flowers are widely considered to be a Lucky herb. These flowers have been used by many people and spiritual practitioner for the purpose of bringing Good Luck in Money Matters and especially at Games of Chance.
*I take custom orders and any bath bomb can be made into a multi use bath if you prefer.