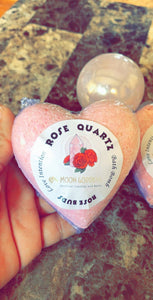 Rose Quartz is the ultimate stone of love. Dissolves emotional wounds, promotes self love and attracts new love. Strengthens bonds in relationships and carries a divine loving energy. 
Being the flower of love, roses have been used in magic love spells for many many years. It is believed that roses can promote love and stimulate one's sex drive. Furthermore, it is said that roses have the magical property to help in developing psychic knowledge and increase intuition.
*I take custom orders and any bath bomb can be made into a multi use bath if you prefer.